Beerse, Belgium, Thursday 27th July 2017
EMIF-AD, a disease-specific research programme of the European Medical Information Framework (EMIF), in its fifth year as an Innovative Medicines Initiative (IMI), is already contributing to AD research within Europe on early biomarker work, but also in developing a platform for collaboration across the AD research community.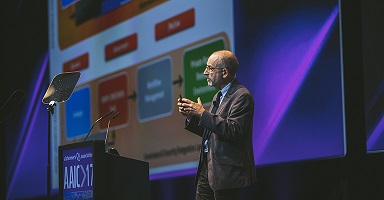 Prof Sir Simon Lovestone, recently knighted for his contribution to neuroscience, Professor of Translational Neuroscience at Oxford University, and academic coordinator of EMIF presented a plenary on Tuesday 18th July, entitled, "The Future of Electronic Health Records and Big Data in Dementia Research".  Prof Lovestone outlined the work conducted by EMIF to date, inclusive of an AD cohort catalogue and a technology and governance platform for the discovery, assessment and reuse of de-identified AD records data. He also highlighted confluent work with partners such as UK-CRIS1, and DP-UK2 in aggregating relevant data for researchers on accessible platforms.
Prof Lovestone commented, "EMIF-AD has given us a tremendous opportunity to conduct research which would ordinarily have taken considerable time, resources and money to better characterise and understand earlier Alzheimer's Disease, and without it we would be much further back in our progress". EMIF-AD has already developed what Prof Lovestone denoted as 'impossible cohorts', the EMIF 500 and EMIF 1000, combining from multiple cohorts across Europe de-identified health data, access to samples and diagnostic results to support blood based correlates of AD progression using more invasive or expensive biomarkers, as just one example of progress. This has involved all three guiding objectives of EMIF – making data findable, assessable and reusable – and many of the tools EMIF has developed to achieve these aims.
The AAIC 2017 meeting is a preeminent meeting of over 5600 of the world's leading researchers, next generation investigators, clinicians and the care research community to share discoveries in basic and translational research that will lead to methods of prevention and treatment, and improvements in diagnosis for Alzheimer's disease and other dementias. Dr Pieter Jelle Visser, Academic Lead for EMIF-AD and Clinical Epidemiologist, Maastricht University and VU Medical Centre Amsterdam, commented, "We are very proud that EMIF-AD has twenty presentations at AAIC 2017, reinforcing the contribution of this unique collaboration in Alzheimer's Disease research to the knowledge base".
In the spirit of such collaboration, Prof Lovestone portrayed a possible future where multiple, international platforms for dementias research could support target identification; proof of concept clinical trials; efficacy trials (feasibility to recruitment); regulatory and payer approval requirements for new therapeutics; phase IV studies, as key milestones for therapeutic development against dementias. Prof Lovestone added, "we have to work together and EMIF-AD, UK-CRIS, DPUK, EPAD3, GAAIN4, and many others are in an ideal position to do so, providing a global framework for dementias research that will make a critical difference to addressing the increasing threat to individuals, families and society of these awful diseases".
Also attending AAIC 2017 was Jelle Praet, AD Cohort Engagement, EMIF-AD, who is working with cohorts to expand the cohort catalogue, as well as support cohort custodians with the process to on-board the EMIF-AD platform. He suggested, "EMIF-AD is providing real benefit already with the 46 cohorts that are within the catalogue, but we need to expand on the diversity, quality and quantity collaborating. We are introducing new technologies to harmonise AD research data and to open up the opportunity for AD/dementias researchers to explore European cohorts and datasets". So far eight cohorts are confirmed as on-boarding into the EMIF-AD platform, with eleven expressing significant interest in doing so during AAIC 2017.
Looking forward to the future, Bart Vannieuwenhuyse, Industry Coordinator for EMIF, is one of many collaborating with the EMIF-AD research community, along with Prof Lovestone, working on a sustainable platform beyond the IMI programme phase. He proposed, "Dementias research is very challenging, and Alzheimer's Disease is a very complex challenge, and a major threat to our society, which has meant few therapeutic options to date". He added, "we will only address this with a sizeable collaboration of multiple, diverse stakeholders, from patients and their carers to clinicians, academics, and the Industry to meet such a societal challenge, supported by common platforms and technologies".
EMIF-AD colleagues would be keen to hear from those across the European research community who would wish to work together on establishing a sustainable future for the EMIF-AD platform, and to combine initiatives requiring access to real world data, samples or patient recall, while driving the research priorities for the near future.
More information on EMIF-AD can be found here, with more on the Cohort Catalogue via here, and a copy of Prof Lovestone's keynote presentation from AAIC 2017 is available here. To contact EMIF-AD, please do so via here, or if you are an AD cohort and wish to collaborate, contact Jelle Praet.
Notes:
1.Clinical Records Interactive Search (https://crisnetwork.co/)
2.Dementias Platform UK (https://www.dementiasplatform.uk/)
3.European Prevention of Alzheimer's Disease Consortium (http://www.emif.eu/)
4.The Global Alzheimer's Association Interactive Network (http://www.gaain.org/)
ENDS